In October 2019 we launched Chosen Boys by Petra Molloy.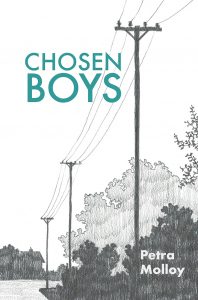 He wonders how big God's hand is. If he has an eye that can see the whole world in a glance, his hand must be big enough to reach out of the sky and pluck him up with his giant fingers.
It is 1974 and seven-year-old Jack leads a carefree life, playing in his Auckland street. But when a new priest selects him to train as an altar boy, Jack's world is imperilled and he shrinks away from his community, his friends and his mother.
Chosen Boys explores what happens to a community when they are betrayed by those meant to care for their spiritual wellbeing. Set in a working-class Catholic community against the backdrop of the dawn raids, Molloy's moving debut novel asks the question: who will act when a predator declares himself 'another Christ on Earth'?
About the author
Petra Molloy was born in Nederland and immigrated with her parents and four siblings in 1952. She was brought up Catholic as were her five children.
Petra and her husband operate a winery and vineyard in Auckland and much of her family life has been centred on its many and varied demands.
In her spare time she has completed a Bachelor of Arts degree from the University of Auckland and a Ceramic Art Degree from the Canberra School of Art.
For Petra, writing and clay have always vied with one another. But she continues to write as much as she can in her spare time, and in 2017 she completed a Diploma in Creative Writing at Whitireia New Zealand.
Her first novel, Chosen Boys, is available from our website and all good bookstores.