$28.00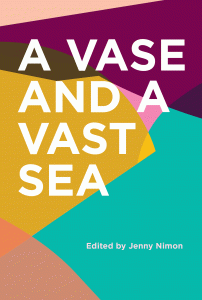 In A Vase and a Vast Sea, poetry and prose rustle against the window, scatter palm fronds across the road and sneak off to the movies on a Tuesday. There are moments of nostalgia blended with dangerous undercurrents and domestic life.
Edited by Jenny Nimon, this collection is a reunion of writers such as Renée, Maggie Rainey-Smith, Barbara Else, Rata Gordon, Tim Jones and Adrienne Jansen, and is an essential keepsake of New Zealand literature and a much-loved writing course.
'This collection is banging a drum. It's softness. It's relationships and eyerolls, bodies and beaches, classicism and the future and the visceral immediate. It quivers with life – a fitting memorial slab to a vibrant, unpredictable and inventive creative writing programme.' – Jane Arthur
ISBN: 978-0-473-53120-1 (paperback)
Sales
For sales, please contact Adrienne Jansen by visiting adriennejansen.co.nz/contact/
Download the ebook from Amazon
Watch the video
About the authors
A Vase and a Vast Sea features much-loved New Zealand poets and authors connected to Whitireia's Creative Writing Programme:
Renée, Donna Banicevich-Gera, Bronwyn Bryant, Lynn Davidson, Natasha Dennerstein, Romesh Dissanayake, Nicola Easthope, Barbara Else, Helen Vivienne Fletcher, Anahera Gildea, Carolyn Gillum, Alison Glenny, Rata Gordon, Rob Hack, Trish Harris, John Haxton, Adrienne Jansen, Kristina Jensen, Marion Jones, Tim Jones, Rachel Kleinsman, Cushla Managh, Lucy Marsden, Tracie McBride, Kathy McVey, Fiona Mitford, Margaret Moores, Bill Nelson, Ralph Proops, Maggie Rainey-Smith, Tina Regtien, Miriam Sagan, Lorraine Singh, Tracey Sullivan and Charmaine Thomson.
Foreword by Pip Adam.
Coming Soon
Additional information
| | |
| --- | --- |
| Price | |
| Version | Paperback, ePub |