$28.00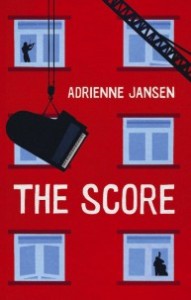 A grand piano falls off a crane and by bad luck ends up the responsibility of Stefan ‒ piano restorer, illegal immigrant and victim of immigration fraudsters. His neighbours, a diverse bunch with their own messy lives, weigh in to help him rebuild it. The Score mines the rich world of the inner city – a block of council flats where migrants and misfits create their own community.
ISBN: 978-0-473-25328-8
Sales
For sales, please contact the author by visiting adriennejansen.co.nz/contact/
Also available from Amazon and Kobo
Media for The Score
"This is a charming, thoughtful and moving work of New Zealand fiction which I thoroughly enjoyed and warmly recommend."
– Graham Beattie.
'a story that moves along at a great pace, with smatterings of comedy, and a bunch of eclectic characters.'
– Mike Crowl, Otago Daily Times
New Zealand Books Review (Winter 2014)
PlainsFM Radio Interview (Oct 2104)
Otago Daily Times Review (April 2014)
Wel-Com Review (Jan 2014)
New Zealand Listener NZ Books of the Year (Dec 2013)
Old Lady Laughing Blog Review (Nov 2013)
Te Punanga Review (Sept 2013)
Arts on Sunday Radio NZ Interview (Sept 2013)
New Zealand Listener Review
Out of stock